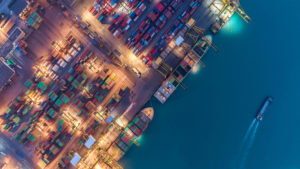 Situated smack in the middle of Russia and the Middle East, with the whole of Europe to the west and all of Asia to the east, it's no wonder that Kazakhstan has played a pivotal role in modern history. The fact that this former republic of the Soviet Union sprawls across 1 million square miles means that it could be a key player in grand plans. Dr. Serik Burkitbayev certainly harbors such grand plans for his homeland, as "Silk Road 2.0" would use all means of transportation to move goods from the industrial heart of Germany all the way to the far eastern coast of China. It would seem like a lofty proposition but in the hands of Dr. Burkitbayev, who holds a master's and Ph. D. degrees and studied laser physics at the Moscow Engineering and Physics Institute, it's entirely possible. What's more, his native country plays a crucial role in this proposal for a new "Orient Express."
Through the development of more effective transportation corridors as well as oil and gas pipelines, it would be possible to solve existing trade problems. These problems include low-tonnage tankers unable to pass existing ports and waterways, overcoming inhospitable natural and geographic conditions and reducing high rates associated with freight costs. According to Dr. Serik Burkitbayev, the development of the Kuryk and Baku ferry terminals and ports would provide for new tankers and year-round activity. A new deepwater port in Kuryk, as proposed in the "Silk Road 2.0" plan, would allow for industrial operations like oil-loading, general cargo and fisheries as well as a passenger port and yacht club.
As a former minister of transport in Kazakhstan, Dr. Serik Burkitbayev understands logistics from an industrial perspective. Such a massive undertaking would indeed present tourism and recreation opportunities and Dr. Burkitbayev's planning has accounted for this, as well. The Ashisor lagoon, for example, could be home to an artificial island, dozens of hotels, hundreds of cottages, a handful of theme parks and two new yacht clubs. However, the business implications of this proposal were also considered and the "Silk Road 2.0" plan projects 39,000 new jobs associated with the project and more than 1.2 million tourists annually.
As former government official who oversaw various parts of infrastructure across Kazakhstan, Dr. Serik Burkitbayev understands big concepts and how to see such ideas through to completion. At the current time, he is involved with the Kazakh Institute for Energy and Communication as well as other large-scale sustainability projects. With the completion of transportation networks across Europe and into Asia, a new type of connectivity that's needed in the modern global market would be achieved.